(left) A Gorman wildfire on Sunday, June 28 at about 12:55 p.m. burns through brush just beyond trees which were blackened in a September, 2005 fire. (right) Just minutes later, a Los Angeles County Fire Department helicopter drops water on the flames. [Meyer photos]
UPDATE (Sunday, June 28, 2009, 4 p.m.)—The fire is 100% contained, according to Los Angeles County Fire Department Inspector Frederic Stowers. "There were three separate starts," Stowers said. "This is under investigation, but what often happens is the big rig trucks coming down the grade have particles from their brakes that come off and can get into the brush along the side of the freeway." Stowers said the three ignitions were within a quarter to a half mile stretch of freeway. A total of 120 acres were burned. There were 200 fire fighting personnel working to knock down the blaze. One structure was saved. The time for containment was three hours, according to Stowers.
UPDATE (Sunday, June 28, 2009, 2 p.m.)—A Los Angeles County Fire Department spokesperson confirmed for The Mountain Enterprise that the fire is currently 120 acres in size, no structures have been damaged and there have been no injuries. Two Los Angeles City helicopters and two Los Angeles County helicopters are working the fire. Two fixed-wing tankers from Cal Fire are enroute. He expects that the fire may be held to 120 acres.
Incident Command on this fire was Los Angeles County Fire Department. Kern County Fire Department, Los Padres National Forest, California State Parks, Ventura County Fire Department and California Highway Patrol were also on-scene.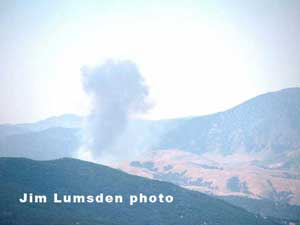 GORMAN, Calif. (Sunday, June 28, 2009, 1 p.m.)—A wildfire broke out in Gorman at approximately 12 noon today and is burning in a northwesterly direction.
The fire appeared to have started in brush adjacent to Peace Valley Road, about a quarter mile south of the Hungry Valley State OHV Park entrance.
No public information personnel were on scene at the time a reporter for The Mountain Enterprise first went to assess the scene.
Dispatchers for Kern County Fire Department reported that KCFD units have been sent out to assist Los Angeles County Fire Department. A helicopter is making water drops at this time.
A Frazier Park family traveling south toward Santa Clarita at 12:50 p.m. said they saw three fires along the freeway, speculating that they appeared to be the work of an arsonist. Jim Lumsden, from his Eagles' Perch home east of Frazier Mountain, inside Tejon Ranch, said it appeared the fire had moved rapidly to the south, even though "the wind is drifting to the north." He said at 1:40 p.m. that from his vantage point at about 5,900′ it appeared that the fire was being brought under control.
Additional updates will be available here soon.
This is part of the June 26, 2009 online edition of The Mountain Enterprise.
Have an opinion on this matter? We'd like to hear from you.