The sedan which struck a pole on Interstate 5 next to Tejon Fields, causing one fatality on Monday, Sept. 1.
FRAZIER PARK, Calif. (Monday, Sept. 1:05 p.m.) — A traffic fatality on northbound Interstate 5 has backed traffic up to the Lebec overpass.
A late model Hyundai sedan struck a power pole adjacent to Tejon Fields causing one fatality. The accident was reported at 12:13 p.m., according to the California Highway Patrol (CHP) traffic incidents website, which indicated a reporting party saying two vehicles attempted to enter the same lane at the same time. One vehicle over-corrected and hit the center divider, then "shot to [the] other side of [the freeway] into [the] pole."
Update: 3:43 p.m. — The driver of the 2005 Hyundai, according to CHP, was Anthony Watson, 24 of Bakersfield, who sustained moderate injuries in the accident and was taken to Kern Medical Center via ground ambulance. The passenger, whose name was not released pending notification of family, was a 24 year old female Bakersfield resident. She was riding in the left-rear seat, was not wearing a seat belt and was pronounced dead at the scene.
CHP Officer Love is seeking contact with potential witnesses. Anyone with information about this incident is asked to contact the Fort Tejon Area CHP office at 661-248-6655.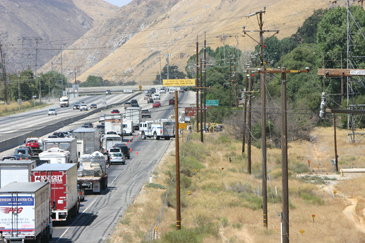 This is part of the August 29, 2008 online edition of The Mountain Enterprise.
Have an opinion on this matter? We'd like to hear from you.